Creating personalised communications for 280,000 members
How can you communicate relevant offers and events to Lincolnshire Co-op members?
With 280,000 members across the UK's second largest county, Lincolnshire Co-op faces quite a challenge when it comes to communicating relevant offers and events to their members. The solution was to develop a bespoke software platform: the Comms System.

The Co-op Comms System is a private web app that sends personalised emails using member data, location data and website usage patterns. This system gives the Lincolnshire Co-op the ability to communicate relevant and personalised email messages to each of its 280,000 members. Also, the system produces XML data for a wide range of printed materials sent to members via traditional post.
What is the Comms System?
Developed by Cursor using Codeigniter, Craft CMS and Node.js technology, the Comms System provides an easy to use interface where non-technical staff can design an email campaign. They add content and images using a WYSIWYG editor and 'panels' featuring content from a wide range of categories.

From travel deals and competitions to votes and polls and member announcements; Co-op membership, marketing and communications staff can build emails without touching any HTML code and know that their emails will work responsively across any desktop or mobile device.
Emails and print communications can include dynamic content, individually tailored to a particular member. The system uses the location of the member's home store and a sophisticated scoring system to prioritise events that are most relevant to them.

The Comms System also uses intelligent targeting to send communications to a specific segment of members, as well as automatically selecting events, offers and vouchers which might be of interest to each member or segment of members.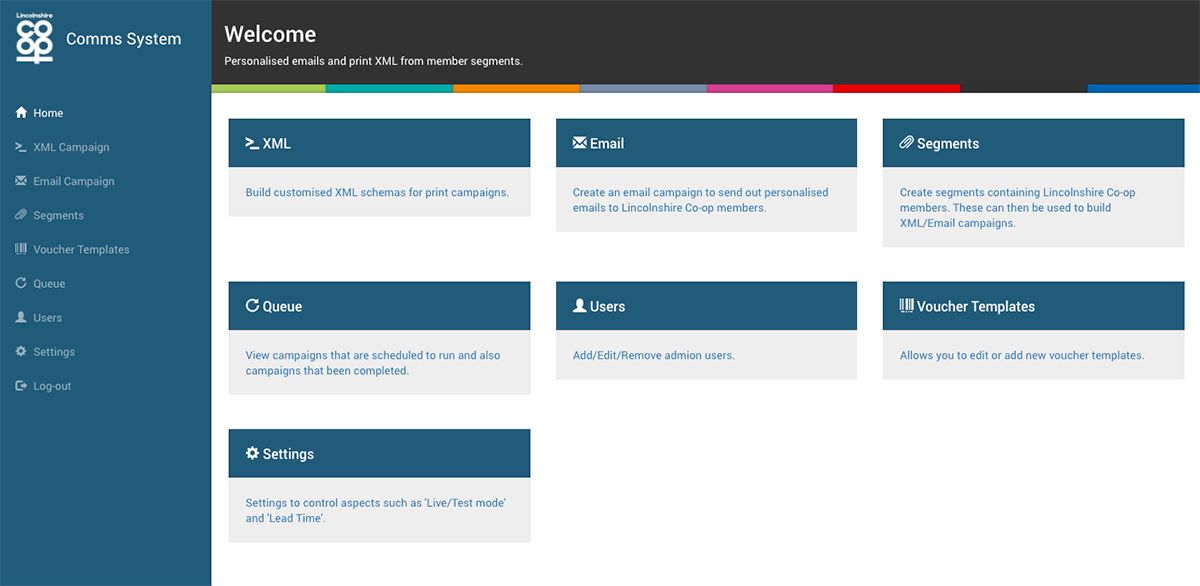 Security & performance
Cyber Security was a key consideration throughout all of the Comms System. Running on Lincolnshire Co-op's internal servers, the Comms System manages data from various sources including the encrypted member records.

This encryption provides the safety and security Lincolnshire Co-op members expect but also presented challenges to the overall speed of the system. Cursor and the Lincolnshire Co-op team worked closely together to ensure that the Comms System was not only secure but fast; processing member records and geo-location data at the rate of 120/sec and sending emails at the rate of 1000/minute.
How it helped
The Lincolnshire Co-op Comms system is at the heart of a number of business critical communications projects that would not be possible without this innovative system;
Dividend re-carding project – 230,000+ members (print)
Weekly new member packs – 750+ members (print)
Fortnightly Travel Eshot – 4,000+ members (email)
Monthly Membership Eshot – 55,000+ members (email)
Member Communications – 120,000+ members (email) including BoD elections, Members' Day, Dividend Bonus, Member Forums, Community events and New store openings
Weekly new member 'welcome' email – 500+ members (email)
The Comms System development has enabled us to personalise our communications and improve our member experience. From a functional perspective the system is really easy to use and we are really pleased with the results.
Laura Dunne
Head of Marketing & Membership, Lincolnshire Co-op